Exploring Extreme Terrain on Your ATV Is Easy with a Reversaroller Attached to a Winch
Reviews of Reversaroller ATV Winching Accessories
Anybody who's ever been stuck beyond hope and, thankfully, had their hide saved using a winch knows the importance of this versatile device for working or hanging out in the backcountry. Adding another dimension of functionality, the innovative Reversaroller is a simple device that allows a front-mounted winch to pull your quad rearward. Adding this product is less intense (and less expensive) than adding an auxiliary winch hook-up in the rear of the ATV and likely has uses we haven't even considered. With the added confidence and winching versatility, we found ourselves charging into the rock crawl sections without fear." –ATV Magazine, July/August 2011
"With the Reversaroller installed, we were able to explore some uncharted territory at our favorite ride spot. Trails that have terrain too steep for quads became accessible. …the product has rescued us from a mud pit, a deep water crossing and has also helped out several other quads in our riding group. The Reversaroller is a product to get excited about. It is of very high quality construction and serves a purpose not only to extend our trail exploring, but also adds a safety factor to all our trips." (Read
the full article in our product review section
.) –Dirt Wheels Magazine, January 2011
Steep Terrain can Stop your Exploring (sometimes with damage and injury)
I'll bet you love exploring extreme terrain on your ATV just as much as we do. Although I think I know the limits of my experience and my machine, the great outdoors can throw the unexpected at me. I know when the trail gets too steep, it's time to use Reversaroller so I can ride another day. For many the temptation to continue unassisted is often too great …
And this
video
shows what can happen.
There is a safe solution for steep terrain…..
Don't do dangerous descents without Reversaroller!
14 Benefits of Having Reversaroller Attached to Your ATV Winch
Doubles the usefulness of your ATV winch
Increases available options to winch out of bad places
Assist someone else behind you without having to turn around
Be the EMT-Prepared to help yourself or others (Rescue Winching)
Be better prepared for the unexpected on new terrain
Winch forward down a steep section of trail (forward descent winching)
Retreat from dangerous steep terrain
Safely test swift or deep water crossings
Reduce the possibility of personal injuries or damage to your ATV
Add an additional element of safety to your ATV excursions
Safer loading of ATV trailer
Quick release features allow for easy setup
Save money (less expensive than buying a new ATV)
American Made for quality and reliability
Need to Winch Down Steep Terrain? Anchor a Winch Cable BEHIND Your ATV with Reversaroller
At Reversaroller, we found the solution. We designed a device that allows us to effectively use our front winch cable behind our ATV. We call it… Reversaroller.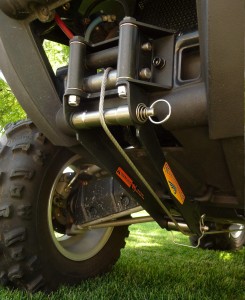 Equipped with a removable extension arm, Reversaroller attaches to the front winch mount with the ATV winch cable running under the ATV and through a link at the back to prevent flipping over.
Buy It Now!
Be the first in your ATV group to show up at your next backcountry outing with Reversaroller attached to your quad. Click on your ATV model in the side bar to get yours, and get a free 2500 lb tree strap as well, this will help protect the environment and add 6 feet to your cable length. Order Now, this is a limited time offer.